Where young people belong.
"Don't let anyone look down on you because you are young, but set an example for the believers in speech, in conduct, in love, in faith, and in purity." 1 Timothy 4:12
Young people are not just the next generation of the church: they are a vital part of our community right now. At Leavenworth Church of the Nazarene, we believe that each young person is infinitely loved and valued by God and we want them to know it! We strive to surround young people with intentional relationships and to empower them to seek God in all that they do.
LCN Youth is open to young people from the summer before their 6th grade year until the summer after their High School graduation.
Join us on July 8th for a trip with the Chelan youth group to Wenatchee and Cashmere. We will go to Wenatchee to complete a secret adventure, then head to Brian's in Cashmere for pizza and bowling. This is the perfect event to bring a friend to!
The
cost for this event is $15
per student - this can be paid through online giving or in cash at the time of the event.
Questions? Email Pastor Paige at
[email protected]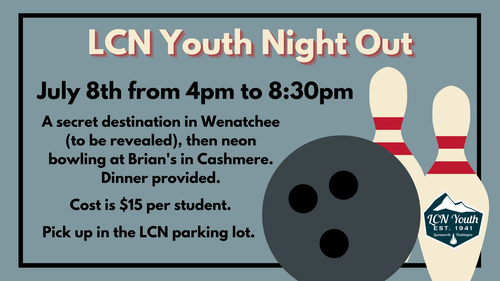 Water Day: Pflugrath Edition
The Pflugrath's have been kind enough to let us spend a day by their pool! Bring a modest swimsuit, a towel, some sandals, and a friend for a day of fun in the water. Both lunch and dinner will be provided for this event. Parents are welcome to come hang out as well!

If you are planning to attend, please RSVP at the link below so that we may have a rough estimate for food preparation.
Register now for an awesome week at Riverview Bible Camp! Summer camp is a great way to make new friends in our area, grow closer to the teens in our church, and encounter God in a new and exciting way.
This camp is open to teenagers once they have finished their sixth grade year.
Email
[email protected]
with questions or for additional information.